What about Lip Piercing?
The lips aren't as vascular as the tongue, so there's probably less chance of major bleeding. But jewelry here is more likely to rub the gum tissue away from your tooth and necessitate gum surgery to avoid losing the tooth.
Gum surgery beats brain surgery, but do you really want either?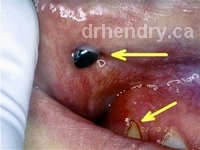 Is it Worth It?
You decide the price of fashion. The best advice we can give you: keep it outside the mouth.
Do we recommend safe practices and a qualified operator? Of course. (We also recommend light cigarettes and cutting down for those who smoke, and helmets and mouthguards for those who choose extreme sports. No sense making things more risky than they already are. )
Do we recommend oral piercing? Obviously not. The risks are a bit high for a medically unnecessary procedure.


Are there any safe alternatives?

Yes. You CAN decorate your mouth without damaging anything, and it costs less than piercing. Check out bonded tooth jewellery
Speaking of Piercing Shops

We get email from body piercing shops from time to time. Sometimes it's polite; often it's coarse or abusive. Invariably, they claim that oral piercing is perfectly safe when they do it, because they have proper training, and use proper sterilization, use proper jewelry, etc.

As we've already said, there's some truth to this. We approve of using a well-qualified piercing technician who will do it right. If you are going to do it, a well-qualitifed operator who takes proper precautions is essential and will minimize the risks - but it won't eliminate them.

But although piercing technicians often aspire to provide medical attention to clients having complications, the reality is that patients having serious problems tend to go to a physician or dentist - or may not even realize there is a problem until the dentist find it. None of the complications that we've seen requiring surgical correction were seen by the piercing shop, or could have been treated by them.

Because they aren't health professionals, and don't treat (or always see) the results when things go wrong, piercing artists tend to underestimate the incidence of complications. They also have a financial stake in the piercing business - it's their livelihood, after all. So pick a good one - but take them with a grain of salt.
We are not out to demean piercing enthusasts - any more than we dislike or disrespect smokers, cliff parachutists, or young people in general. The purpose of this page is simply to provide information, to assist people making informed decisions - and to encourage sensible precautions for those who choose to take the risks.

Finally, we have to give special recognition to some pro-piercing websites that that actually acknowledge the risks of oral piercing:
And the runner up is this piercing association .